Environmental Sustainability
We believe that doing the right thing for the environment drives our growth. We believe in human rights, sustainable business practices and responsible sourcing. We promote corporate sustainability not only within our own operations, but also with our partners and supply chain.
Veritas committed to supporting SDGs
To further our work towards promoting and implementing environmental sustainability initiatives within our operations and throughout our supply chain, we support the following Sustainable Development Goals (SDGs):
Veritas Greenhouse Gas emissions inventory
During FY2020, Veritas GHG emissions across its entire value chain (operations and supply chain) decreased by four percent compared with the prior year. Since FY2018, Veritas has decreased GHG emissions by seven percent.
Electricity consumption decreased by 16.5 percent in FY2020 from FY2019 levels. However, Scope 2 emissions increased in FY2020 because of a data center move from a low-emission factor state to a high-emission factor state in the U.S. Emissions from office electricity consumption decreased by 24 percent in FY2020 from FY2018 levels (Scope 2 Market-Based emissions for offices were 22,527 MT in FY2020 compared to 29,535 MT in FY2018).
Business travel emissions fell by 13 percent in FY2020 from FY2019 levels and decreased by 37 percent from FY2018. Product use (appliances)-related emissions fell by 12 percent in FY2020 from FY2019 levels and decreased by seven percent from FY2018.
Veritas has set a science-based target, positioning the company as a corporate leader of the low-carbon transition. The company has had its emissions reduction targets approved by the Science Based Targets initiative as consistent with levels required to meet the goals of the Paris Agreement.
The targets covering greenhouse gas emissions from Veritas' operations (scopes 1 and 2) are consistent with reductions required to keep warming to 1.5°C, what the latest climate science has told us is needed to prevent the most damaging effects of climate change. Veritas' target for the emissions from its value chain (scope 3) meet the SBTi's criteria for ambitious value chain goals, meaning they are in line with current best practice.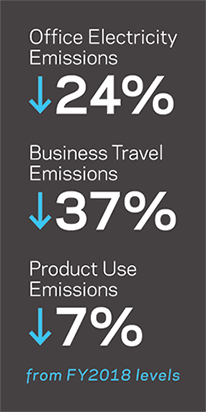 Veritas' science-based target commitment
To reduce absolute scope 1 and 2 GHG emissions 25% by FY2025 from a FY2019 base year. Veritas commits to reduce absolute scope 3 GHG emissions from business travel 19% by FY2025 from a FY2019 base year. The company also commits to reduce scope 3 GHG emissions from use of sold products 17% per appliance sold by FY2025 from a FY2019 base year. And commits that 50% of its suppliers by spend covering purchased goods and services and capital goods, will have science-based targets by FY2025.
Sustainability at Veritas Empowered
Our SAVE (Sustainability at Veritas Empowered) ERG is an employee-led sustainability program that supports Veritas' commitment to the environment. Our SAVE Teams are located at various Veritas sites around the world and support local initiatives to increase environmental awareness and engagement among Veritas employees.

Supply Chain Sustainability
Veritas promotes responsible operation not only in our own operations, but also throughout our supply chain. Veritas' global supply chain, which includes activities related to the manufacturing and transportation of Veritas' physical products, contains six Tier 1 suppliers. Our oversight includes the sourcing of raw materials as well as the selection and management of suppliers that assemble and ship our packaged products.
We are committed to manufacturing and fulfilling products that meet the demand of our customers and partners with a strong focus on quality, corporate social responsibility and operational efficiencies.
The Supply Chain Sustainability Program is built on four key areas:
---
Responsible Business Alliance (RBA)
In 2016 Veritas joined the RBA. Veritas has voluntarily adopted the Responsible Business Alliance (RBA) Code of Conduct and subsequently applied the code to our supply chain and some of our Tier 1 suppliers. In 2018, Veritas qualified as a Regular Member of the RBA.
The RBA Code of Conduct is a set of standards on social, environmental and ethical issues in the electronics industry supply chain. The standards set out in the Code of Conduct reference international norms and standards including the Universal Declaration of Human Rights, ILO International Labor Standards, OECD Guidelines for Multinational Enterprises, ISO and SA standards, and many more.
The RBA code outlines Veritas' expectations regarding labor conditions and the protection of labor rights, prohibits child labor and forced or compulsory labor, and promotes environmental and ethical practices by our suppliers.
---
Key Issues in the Electronics Supply Chain
Greenhouse Gas Emissions
In FY17, we conducted a global Greenhous Gas (GHG) emissions inventory (including Scope 1, 2 and Scope 3 business travel) to support internal decision-making on reduction goals and efficiency strategies. We finalized the inventory for FY18 realizing a 10% decrease from FY17 emissions. We are currently expanding the FY18 inventory to include Scope 3 emissions from our supply chain.
Forced Labor & Human Trafficking
At Veritas, we work to preserve and uphold human rights throughout our company and our supply chain. We have a zero-tolerance policy for forced labor, slavery, child labor and human trafficking, as outlined in our Human Rights Policy, the RBA Code of Conduct and the United Nations Global Compact.
On March 26, 2015, the Modern Slavery Act 2015 was passed into law in the United Kingdom. This law requires companies to publish a formal statement of how they are preventing human trafficking and slavery in their supply chains.
Veritas U.K. Modern Slavery Act Statement for fiscal year 2021 can be found here
Veritas U.K. Modern Slavery Act Statement for fiscal year 2020 can be found here
Veritas U.K. Modern Slavery Act Statement for fiscal year 2019 can be found here
Veritas U.K. Modern Slavery Act Statement for fiscal year 2018 can be found here
Veritas Amended U.K. Modern Slavery Act Statement for fiscal year 2017 can be found here
Veritas U.K. Modern Slavery Act Statement for fiscal year 2016 can be found here
Veritas also complies with the California Transparency in Supply Chains Act of 2010 which requires retail sellers and manufacturers with annual worldwide gross receipts over $100 million doing business in the state of California to publicly disclose their efforts to eradicate slavery and human trafficking from their direct supply chains. Veritas statement for the California Transparency in Supply Chains Act can be found here: Veritas Statement California Transparency Supply Chain Act.
Veritas has a zero-tolerance policy and expects all employees and contractors to be aware of the implications of violating any aspect of human-trafficking related activities. Employees and contractors can report potential violations of this policy to Veritas EthicsLine.
Conflict Minerals
The U.S. Securities and Exchange Commission ("SEC") adopted a rule under Section 1502 of the Dodd-Frank Wall Street Reform and Consumer Protection Act that requires companies to disclose whether the products they manufacture or contract to manufacture contain conflict minerals that originated in the Democratic Republic of the Congo (DRC) or other Covered Countries. We support the aims and objectives of the U.S. legislation on the supply of conflict minerals as stated in our Veritas Conflict Minerals Policy.
To underscore this commitment, we have also:
become members of Responsible Minerals Initiative (RMI)
communicated our conflict minerals policy with our suppliers
required our suppliers to complete the CFSI's Conflict Minerals Reporting Template (CMRT),
developed a comprehensive due diligence process that is in line with the OECD Due Diligence Guidance for Responsible Supply Chains of Minerals from Conflict Affected and High-Risk Areas.
For more information please visit our Veritas Conflict Minerals Report.
Industry Engagement & Collaboration
---
Creation of Sustainable Products
We continually seek new ways to minimize the environmental impact of our products and services during their entire life cycle, by considering factors such as energy consumption, materials use and end-of-life treatment.
Product Compliance
We consider compliance with all applicable environmental laws and regulations to be the baseline for our performance, and we continually look for innovative ways to eliminate the use of environmentally sensitive materials in our products.
All our manufacturing partners and hardware suppliers are both ISO 9001 and ISO 14001 certified.
We comply with all applicable laws and regulations in the countries where we operate. Compliance areas include regulatory requirements, hazardous substances, WEEE, batteries, packaging, conflict minerals and logistics.
e-Waste: Product Recycling Programs
By reusing and recycling electronic equipment, we extend its useful life and reduce the amount of waste we send to landfill.
Refurbishment and reuse are especially important for electronics and other e-waste because they often contain metals such as lead, mercury, cadmium, gold, and silver, which have multiple significant environmental impacts—from their initial mining to potential environmental contamination if they are not recycled or disposed of properly.
Veritas prioritizes opportunities to reuse spare parts and relocate old inventory to avoid the purchase of new equipment. Equipment that has reached the end of its useful life is sent to responsible vendors for proper recycling. These vendors offer services such as hardware retrieval, asset tag and identifier removal, sorting, and environmentally responsible data wiping, cleaning, and destruction procedures. Veritas participates in a variety of take back for recycling programs for our appliances which vary depending on local regulations.
For more information on collection and recycling in your area, visit the Veritas Product Recycling website.
---
Suppliers Sustainability Engagement
We focus our supply chain responsibility program engagement on our Tier 1 suppliers, or those with whom we have a direct contract in place to provide us with services or material inputs for our finished goods.
We require our suppliers to comply with the RBA Code of Conduct, Social and Environmental Responsibility requirements. We integrate the requirements into supplier contracts, by asking our suppliers to commit in contracts to complying with the expectations set out in Social and Environmental Responsibility and Conduct requirements.
These added requirements ask suppliers to confirm acknowledgement of the RBA Code of Conduct (including by implementing a compliance management system), to complete the RBA Self-Assessment Questionnaire (the results of which are reviewed by Veritas) and to participate in the RBA Validated Audit Process.
We check compliance by reviewing the results of each suppliers RBA Self-Assessment Questionnaire and through the RBA Validated Audit Process.