Veritas and AWS
Global, scalable solution for cloud data protection and storage
High performance at scale
No other technology helps organizations manage data on AWS better than Veritas. Whether backing up to Amazon Simple Storage Service (S3), archiving to Amazon S3 Glacier, migrating workloads to Amazon EC2, or making sure that mission-critical apps are highly available and recoverable across multiple availability zones, Veritas provides high-performance cloud solutions at scale.
Veritas is an AWS Advanced Technology Partner and has the following AWS designations: Storage and Government Competencies, Public Sector Partner, AWS Outpost Ready, and Marketplace Seller.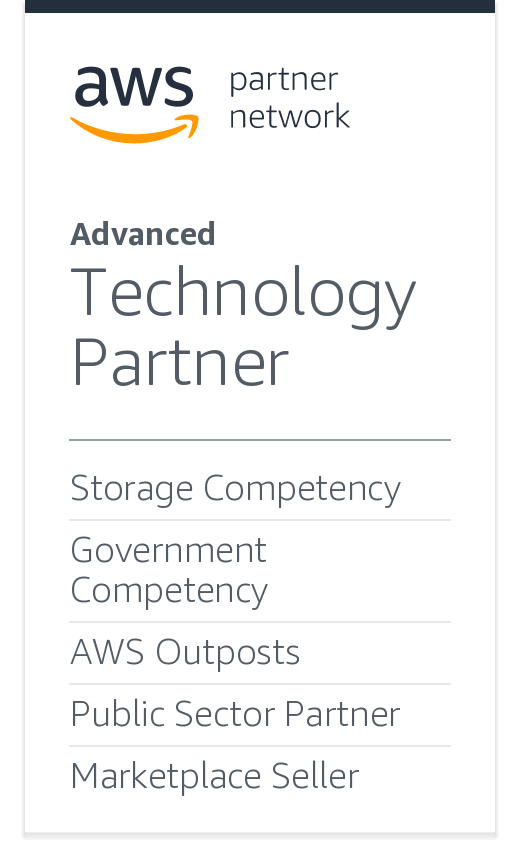 Data Management Solutions for the Modern Workload

Unified Data Protection
Veritas NetBackup and Backup Exec make data protection and long-term data retention seamless across all your environments, whether physical, virtual, or in AWS's Amazon Simple Storage Solutions (S3) or Amazon S3 Glacier tiers. Veritas

Predictable Performance
Veritas Infoscale gives you a single approach to architect business uptime for your mission critical applications. Address all high availability and disaster recovery scenarios with an application aware solution across physical, virtual, and AWS instances.

Move to the Cloud
Veritas Resiliency Platform makes it easy and efficient to migrate any size of apps to AWS. Pairing automated replication in conjunction with Veritas NetBackup deduplication capabilities allows you to realize cost savings over managing your data on-premises.
Download workload migration data sheet to see all the technical enablement and marketing benefits.
Veritas and AWS Collaboration
Two of the most trusted names in technology offer a global, scalable solution for cloud-based data protection and storage
Cloud Seeding to AWS with Amazon Snowball
Simplify Multi Cloud Resilience with AWS
Learn more about how Veritas Partners can help with your business needs.