InfoScale Enterprise
Software-defined storage and availability for demanding enterprise environments.
Highly available, enterprise-proven software-defined storage
Software-defined storage built for the largest, most demanding organizations can't compromise on high performance and high availability. Our solution easily spans private, hybrid, and public clouds.
Give your most critical databases the high performance and availability they demand
Easily extend your storage environment to the cloud
Match your storage and costs to the various needs of your enterprise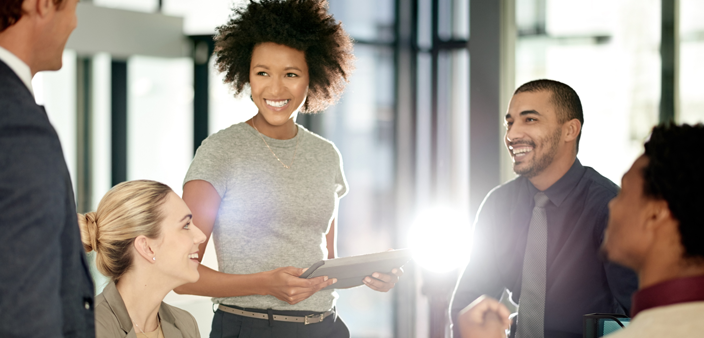 Choose enterprise-proven software-defined storage
Scale easily and cost-effectively as needed with hardware-independent storage 
Get proven, enterprise-class software-defined storage that runs on highly affordable and legacy storage hardware
Protect your existing storage investments without needing to rip-and-replace
Choose whatever hardware platforms you need for future storage to minimize hardware spend
Ensure high availability
Get storage you can count on to keep your apps and business running at peak efficiency
Keep your storage environment up 24/7 with industry-leading clustering technology
Cost-effectively protect mission-critical enterprise apps that require zero down time
Address all high availability and disaster recovery scenarios with an application-aware solution
Take a cloud-friendly approach to storage
Save time and money by extending your storage environment to the cloud
Use the cloud as an additional storage tier
Use the cloud as a disaster recovery target
Sharply reduce costs by easily transitioning from storage capital expenses to a cloud-based operating expense model
New in InfoScale
Easy migration and integration with Amazon Web Services
Now you can sharply reduce expenses while maximizing application uptime by easily migrating your enterprise apps and data to the Amazon Web Services (AWS) cloud—on your terms. Used as either a storage target or a platform for your applications, Veritas InfoScale plus AWS forms an ideal, integrated platform to propel your business forward. 
Use the AWS cloud to reduce ongoing capital expenses while moving to a cost-effective, predictable operating expense model
Manage your storage for optimal performance and cost control on-premises, in the AWS cloud, or both
Move data or apps to the AWS cloud at the ideal pace for your business, without missing a beat 
Transitioning to the cloud has never been easier
Use Amazon Web Services as an extended platform for your enterprise apps and data
InfoScale Enterprise makes it easy to start or accelerate your organization's digital transformation with storage management and high availability that are enterprise-proven and cloud-ready.
Significantly reduce costs by moving from a capital expense to an operating expense model
Manage your data on-premises, in the cloud, or both from a single, powerful console
Use the public cloud as a cost-effective, reliable storage target
Get storage management built for the long haul
Choose enterprise-class storage proven in the most demanding environments
Business uptime and continuity require a platform for apps and storage that can withstand the most extreme disruptions. InfoScale Enterprise is an ideal platform for your most business-critical apps, databases, and storage.
Ensure application uptime with a high-availability architecture
Manage  your storage for optimal performance, availability, and cost control from a single console
Eliminate storage waste
Enable all your enterprise apps to perform at their best
Pick the product designed for peak application performance
Your workloads and apps require fast, 24/7 access to resources. InfoScale Enterprise offers a storage environment designed for optimal workload performance and availability.
Ensure apps recover quickly from disruptions or outages with high-availability clustering technology
Enable local, metro, or global disaster recovery in case of severe unforeseen circumstances
Optimize your storage per workload needs to maintain required performance while minimizing ongoing costs
InfoScale Enterprise Resources
Looking for more information? See our library of data sheets, white papers or videos.