APTARE™ IT Analytics
Get visibility into everything with predictive analytics software for multi-vendor backup, storage and virtual infrastructures.

Increasing Ransomware Resiliency
Gain complete infrastructure awareness with APTARE IT Analytics.

Discover what APTARE knows
APTARE knows what you need to optimize your complex IT environment. Do you?

See APTARE in action
Let us show you the power of IT analytics with visibility into your hybrid infrastructure.
Maximize the Value of Your IT Environment
Reduce costs. Reduce resources. Reduce management.
APTARE IT Analytics is the only IT analytics platform to offer unified insights for all major storage, backup and virtual infrastructures through a single plane of glass in both on-premises and multicloud environments.
APTARE provides the visibility enterprises need to identify underutilized IT resources they can repurpose to achieve significant cost savings. According to the ESG Economic Validation Report, APTARE can deliver:
90% reduction in IT management software costs.
28% reduction in consumed IT resources.
24% reduction consumed storage resources.
5% reduction in consumed compute resources.
See how APTARE does it.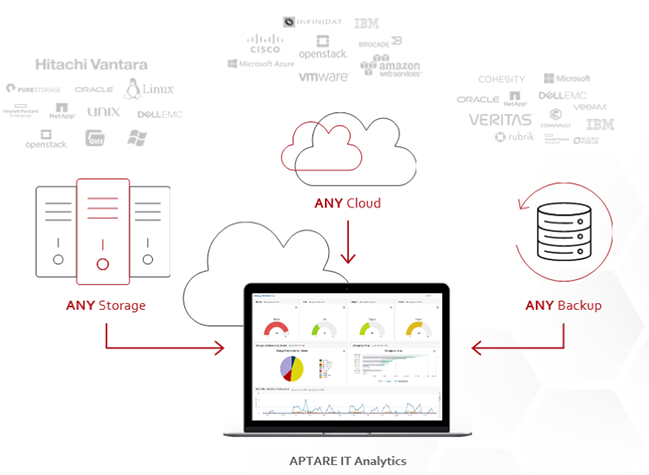 New in APTARE IT Analytics 10.4
Expanded capabilities to meet Public Sector Compliance
VPAT Section 508
FIPS 140-2
IPV6
2FA
Expansion of Core and Customer Commits
Core internal updates to improve product security (Java 11,J axp(b), Open LDAP, Pen Testing, Threat Modeling
Performance enhancements, single sign-on and SML support
New/Enhanced Collections
Veritas NetBackup Appliance (CPUs, Power Supply, Fans, Temperature, Internal Disks, etc)
Networker 9.2.1, Nakivo 9.1.1 & HPE Nimble
Data Center Optimization
Streamline Backup Auditing and Reporting
APTARE IT Analytics Backup Manager allows administrators to view all attempted backups and delivers insights to solve backup problems such as:
Unprotected data discovery—Reduces the exposure of unprotected data by automatically identifying clients and data sets that aren't protected under a backup policy.
Suspect backups identification—Eliminates "false positives" by identifying partial or failed backups that report as successful by the backup software.
Storage Optimization
Effectively Manage Data Storage Resources and Fully Utilize Available Storage
The APTARE IT Analytics Storage Management Suite helps administrators gain insight into actual consumption of resources, so they can reclaim unused storage, reduce consumption and increase resource utilization. The Storage Management Suite is made up of three core products:
Capacity Manager—Provides end-to-end storage capacity reporting from hosts to storage arrays, enabling increased storage efficiency.
Fabric Manager—Provides confident forecasting by capturing key performance metrics and details of SAN resources across all platforms.
Virtualization Manager—Provides valuable insight into storage resource management within a virtualized environment.
IT-as-a-Service
Drive Demand Management for Storage, Backup and Cloud
Chargeback enables IT to operate as a service provider, understand where budget is being spent and charge back cost to end-customers or business units by capacity and performance.
APTARE IT Analytics helps you:
Gain management-level reporting for multi-tenancy environments.
Manage cost and demand for resources by viewing consumed storage, backup and VM resources and enable charge back.
Drive users to the right level and cost of storage and data protection for their needs.
APTARE has helped other customers achieve success – read their stories:
"Our manual reporting system was too time-consuming and inefficient. APTARE IT Analytics streamlines the process and allows us to focus our attention on other more strategic issues."
—
Chris Davidson, VP and Manager, Open Systems Administration
Trustmark National Bank
APTARE IT Analytics Resources
Looking for more information? See our library of data sheets, white papers or videos.
APTARE IT Analytics Support
Review technical documents and get product support.