Office 365 Protection and Governance
SaaS solutions for analysis, discovery and recovery
Elevate your Office 365 environment.
Introducing: Veritas Data Protection and Governance for Office 365.
Organizations across the globe are rapidly adopting Microsoft Office 365 as part of their digital transformation strategy. With a robust set of productivity and digital workplace tools, Office 365 has become the de facto cloud email and content collaboration solution for the enterprise.
As the benefits associated with Office 365 begin to be fully realized, it is critical that organizations also take the necessary steps to protect and govern their Office 365 data appropriately. Veritas Data Protection and Governance for Office 365 is the perfect complement for organizations interested in protecting their Office 365 investment with world-class analysis, discovery and recovery capabilities.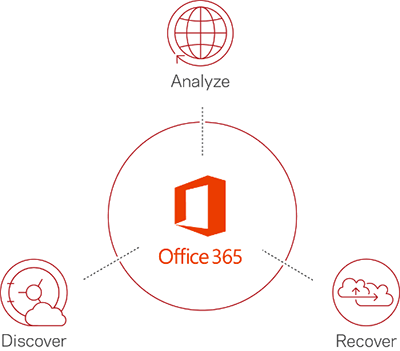 Unparalleled information governance
Information Studio illuminates the dark data hiding in your Office 365 environment.
Comprehensive visualization of 100 million items in as little as 24 hours.
Robust file analysis aggregates file type, ownership, access, age, location and more into a single dashboard.
Real-time updates ensure that your environment is continuously monitored.
Improved legal and regulatory workflow
Enterprise Vault.cloud accelerates Office 365 data discovery.
Easy-to-manage preservation tools establish a unified repository for Office 365 data discovery.
Capture all Office 365 message metadata and maintain a complete, immutable audit trail.
Quickly search and filter results to narrow massive amounts of data down to only what's needed.
Comprehensive data protection
SaaS Backup delivers enterprise-grade automation and scale for all Office 365 environments.
Granular search and restore for the tenant, user, folder or file-level.
Diverse restore options support point-in-time, in-place and direct download.
Easy deployment and unlimited storage reduce manual effort and resource requirements.
Meet regulatory obligations for information retention and eDiscovery
Learn how Marubeni Trading Company achieved painless legal compliance
Japan's Marubeni needed to archive its Microsoft Exchange Online emails to comply with regulatory information retention and eDiscovery requirements. Adopting Enterprise Vault.cloud helped the company easily meet its legal obligations.
Reduce compliance burden and risk
Successfully deploy solution to 4,500 initial users and expand to other companies in the group, including overseas companies
Ensure rapid, effective eDiscovery